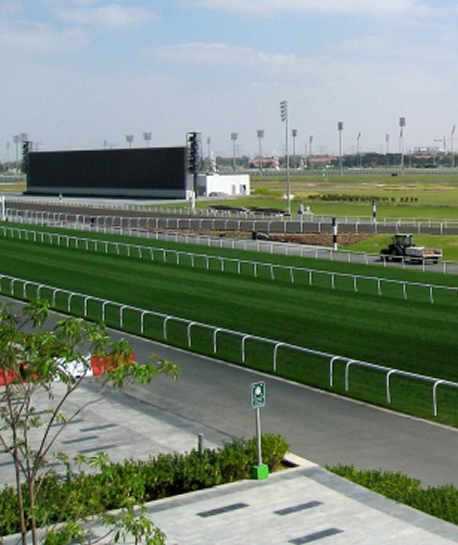 Horse & Carriage is a Dubai based company, representing a number of reputable manufacturing companies from many countries including United Kingdom, Germany, U.S.A. and Australia. We are the exclusive distributors of Cantrex Fencing, Railing & Stable Equipment all manufactured and fabricated in the UAE by ourselves.
The Product's Portfolio includes many items specifically designed for extreme conditions and suitable for Equestrian Facility Applications. i.e.
Synthetic All Weather Riding Surfaces
Horse Track Equipment
Race Rail
Paddock Fencing
Paddock Gates
Parade Rings
Crowd Barriers
Arena Mirrors
Holding Pens
Horse Trailers, Horse Ambulances & Horse Transporters
Stable Doors, Windows, Grilles, Mangers
Exercisers
Rubber Mats and Flooring
Bedding/ Wood Shavings
Horse Exercise Pools
Our products have been supplied extensively throughout U.A.E. and can be seen in use in most breeding, training and racing facilities in Abu Dhabi, Dubai, Bahrain, Kingdom of Saudi Arabia, Kuwait and Qatar.
Our company is an efficient, competitive and dedicated team, British managed, ready and capable to offer to supply / supply and install products to suit most Equine Facilities.